Biodegradable square nursery flower pots
Name:
Biodegradable square nursery flower pots
Item No.:
LS-F02
Color:
brown
Shape:
Square
Size:
141412cm
Description:
Nursery pots
Usage:
Garden pot ,home decor
Feature:
Biodegardable
Optional:
Waterproof
Fiber content:
100
Design:
Acceptable
Painting:
Acceptable
Certification:
SGS
Sample:
Free
Product Description
These pots are non-toxic,odorless, water-resistant,leak-resistant, freeze-resistant and strong enough for even rough handling.
They can be re-used and recycled and will finally be biodegraded into carbon dioxide and water or as natural fertilizer to the soil.
We can supply paper-pulp molded biodegradable flower pots and seedling pots of various designs and sizes.
The pots are environmental friendly and meet international standards.
Paper pulp molded pots have a shorter period of biodegradation (usually 3 months) and the materials are less expensive,
therefore they are widely used as seedling pots and short time growing pots, and their prices are lower compared with other types of pots.
Our biodegradable pots are developed to replace the non-degradable plastic pots, ceramic pots, wooden pots, etc.
To protect the increasingly polluted environment for ourselves and our future generations to live in a better world.
Related Products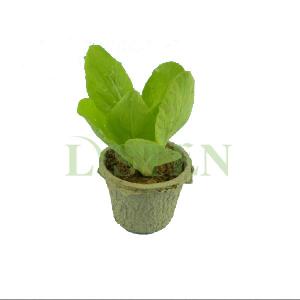 An easy way to grow plants and reduce the number of plastic containers ending up in your local landfill